The Latest Social Media Marketing Updates through March 14th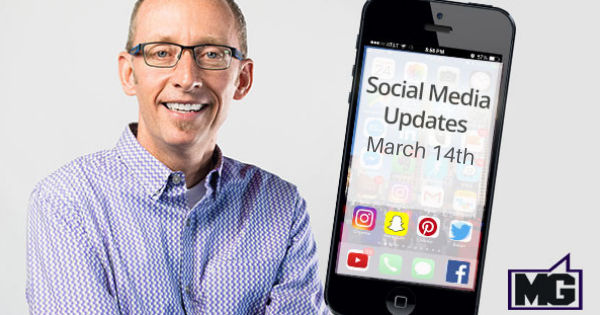 Spring is just around the corner here in the U.S. and it is the season of new growth and a time to start embracing the new! Here are some new updates in the social media world for you that are important for marketers to be aware of.
Facebook
As noted in the TechCrunch article, Facebook wants to make it easier for users to share events and coordinate with friends before an event starts by now allowing sharing of events in Stories. Facebook users will go to a Facebook Event page and below the date, you will look for the "share" option. Simply tap on "share your story" to get it going.
Why It Matters
Stories are growing in use and significance and this is another way to keep users engaged and to provide options for easily adding content to Stories. It's a tool for sharing that you can recommend to fans when you are hosting an event to help those coming get the word out further.
Facebook is rolling out a new feature, that mainly targets deep-pocket advertisers, and it allows for "online video and TV ad buyers to participate in the upfront selling cycle" to help reach target audiences. Showcase video ads are now available for campaigns targeting US audiences and are included for those with the following products: in-stream reserve, in-stream reserve campaigns, and sponsorships.
Why It Matters
Do you typically do ads on TV to reach your audience? Facebook's Showcase video ads would then be a great tool for your business to use. This tool helps you reach your target audience and get in front of the correct demographic. If you are already creating premium content but are not getting the results you are looking for this might just be the tool for you. While not in the wheelhouse for small businesses, it's nonetheless important to be aware of because many ad types start out for the big corporations and then they trickle down with solutions for the small business arena. So stay tuned for possibilities.
Instagram
Instagram is testing a new in-app local business profile page. This is great news for businesses. It can help build your presence on the platform. Similar to Google's local knowledge offering, these profiles show a company's address, hours, phone number, URL, price range and type of business. Business owners can "claim" a profile page, and if you manage a Facebook account for that same business, you can then edit any inaccuracies. It's still in beta at this point.
Why It Matters
We will keep you updated for when this feature is officially out but remember that it is best to fill out all the information so your customers know exactly where to find you! This will be another way to be discovered on the app and be found by "close by" potential customers.
Instagram is working to expand influencer campaigns by creating a new ad format that allows brands to partner with influencers in a more financially beneficial and transparent way. They are working on a new type of ad called branded content ads. These ads "will let brands sponsor posts created by celebrities and publishers, and then promote them as they would their other ad efforts."
Why It Matters
This will essentially streamline the process that brands are currently using to have influencers sponsor their content. It may not affect you directly but it is always good to know about the new features for businesses on Instagram.
Pinterest
Pinterest keeps ramping up there eCommerce in preparation for going public later this year. They added new product catalogs and personalized shopping recommendations to maximize business potential on the platform. A 'More like this' option is beneath each pin and shows other items that are visually similar. There is also a 'More from' option which shows more products from that specific brand or business.
Why It Matters
These two new features are great for businesses to utilize to maximize their exposure on the platform.
That's a wrap on this round of updates! As noted, sign-up to be my blog updates via email and these social media updates will be delivered to your inbox!