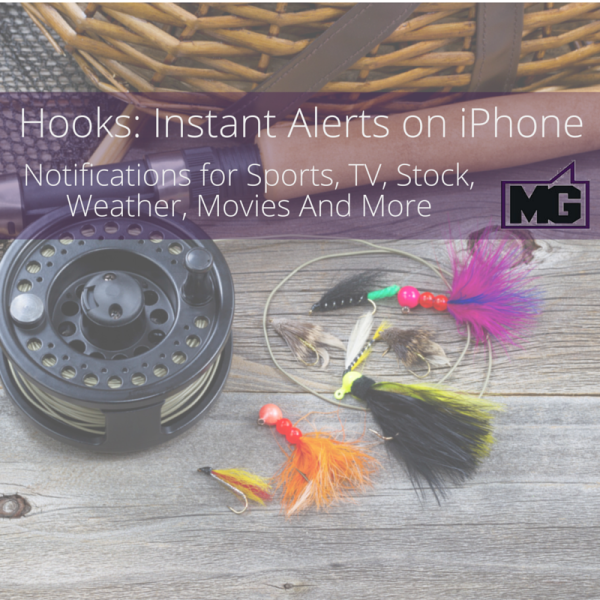 Notifications for Sports, TV, Stock, Weather, Movies And More
Have you ever been busy or out of the office and missed an important Facebook post or tweet on Twitter for your business? Perhaps it involved a existing client, a potential great lead, or maybe it was a stock tip or even the weather forecast. Whatever it was, it was important to you and you missed it. What if you didn't have to?
Even though we like to think we are connected, we can't and don't want to be online all of the time. "In real life, life" must come first. And when you aren't online you miss things- sometimes important things. How would you like instant alerts on iPhone or your Android device?  With the assistance of an app called HOOKS, you will never miss another thing!
HOOKS is a unique app for the iPhone and Android. Unlike other search apps, HOOKS allows users to preset specific keywords so that they get notifications in real time when the keywords or conditions are met. HOOKS continuously scans the internet in the background and when it sees one of your presets, it alerts you!
HOOKS is invaluable for business owners and managers everywhere. By using your name, business name and products as keywords, you can monitor what consumers are saying about you. This product can give you a heads up when consumers are experiencing issues. Consumers see an immediate response as a positive experience even when there's a problem and you've responded promptly.
HOOKS can also be used to directly notify you of other activities such as sports events, concerts and political events you might want to be a part of. HOOKS can monitor your favorite sports teams so you can keep up with scores, trades and injuries without needing to surf. Using HOOKS to keep up with your favorite musicians is easy when you use the band name as a keyword.
The uses for this app are endless. HOOKS allows you to monitor more than a million different pre-set alerts ranging from stocks to weather. Setting up and customizing alerts is easy. You can use the over preset channels or create your own. Plus you can use HOOKS on your iPhone, iPad or your iWatch.
The newest version of the HOOKS app has been redesigned based on user feedback. It has an updated interface and new presets making it a valuable resource for you and your business.
So instead of searching the internet for information on the things that matter, download the new HOOKS app from the iTunes or Google Play store. Have notifications sent directly to your phone about local events, sports teams, business news, company mentions and more.
With HOOKS you will never miss something important again.

Have questions on this or a web topic you'd like addressed here?  Let me know!