Are you keeping up and developing business efficiencies with mobile apps in routines?
Do you wish you were more efficient and able to do more things on the go?
Mobile apps to the rescue!
In this episode of the Halftime Mike podcast I dive into ways business owners and marketers can gain some new efficiencies with specific mobile apps you may not be acquainted with!
You'll want to listen in!
Listen Now:
[powerpress]
Subscribe:  Halftime Mike on iTunes  | Android users via RSS  | Listen on Stitcher.
Business Efficiencies with Mobile Apps
Change is happening!  
The speed of change today is incredible and you need efficiencies in order to keep up.  Look at this image below of how speed of change has increased today!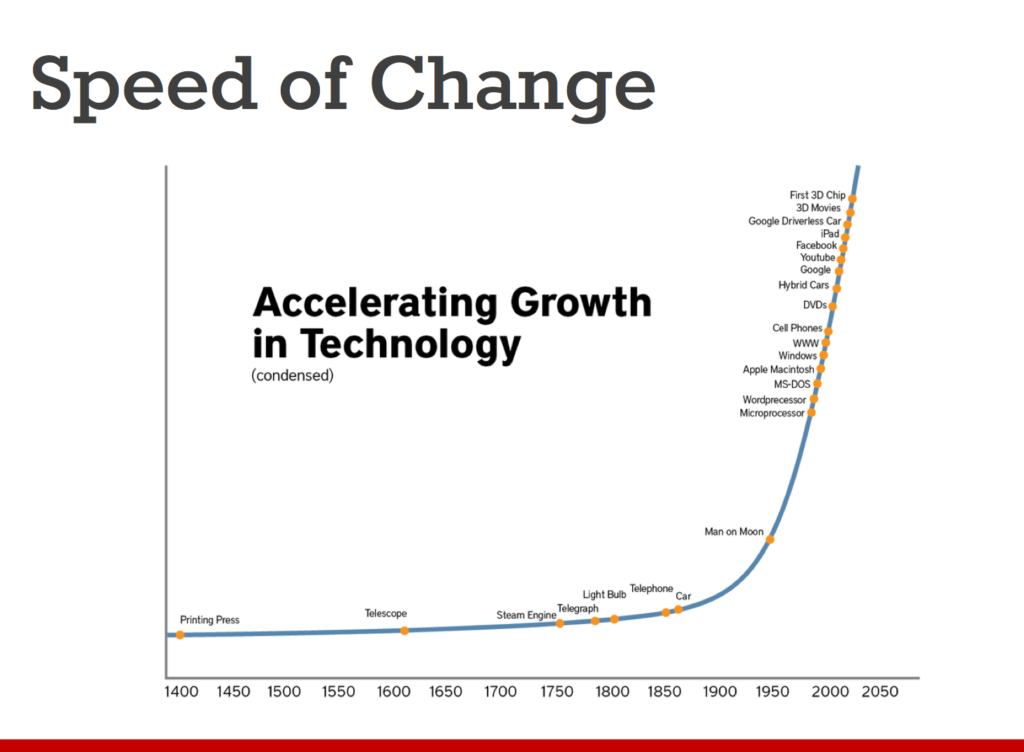 We need to be "Tech Efficient" and "Mobile Device Proficient!"
Traditionally, small business owners have followed four values to greater business success, but as of recently there has been another value that has found its place in small business management.
The traditional values are:
Time management
Delegating tasks
Good customer relations and
Performance tracking
We are all familiar with these values and they are something we generally all try implementing. But now, there is a 5th and increasingly important value: Tech Proficiency, and even more specifically Mobile Device Efficiencies.
Times change and smartphones are an integral part of our work life today.  We have made a significant switch towards mobile technology in managing business activities on a daily basis. We rely on mobile apps, today more than ever, in order to do even the most basic functions such as checking the weather and asking Siri if we should wear pants or shorts tonight.
Handling paperwork, dealing with monthly, weekly and daily reports, financial statements, insurance requirements...the list goes on. With the ever growing popularity of mobile apps, small businesses need to step up their tech game and move some of the paperwork to their phones and tablets.
With that being said, here are some specific tips on how to boost your company's productivity by using mobile apps at your workplace:
Utilize the already owned apps
Most of us have already downloaded several apps to our iPhones or Androids, but never really used them. All of us have apps that came with the phone but we simply overlook those due to not being familiar with them. For example: every iPhone comes with Stocks, iBooks, and several other very useful apps. If you haven't had the chance to use these them, that's probably because you never needed to. However, if you plan on improving your knowledge of eBooks, PDF files, and file management, you should definitely keep reading. If you think your app game is up to par, keep reading and you might rethink your app choices.
Utilize the "Suggested Mobile Apps"
Suggested apps are the apps 90% people download when they first open their phone, and no, we are not talking about Facebook, Messenger and Twitter. Your business will survive without them (but on a side note, if you are not marketing via Social Media, please start doing so). The 3 apps we would like to point out as most useful productivity apps from the "Suggested" category are Google Drive, Dropbox and Evernote.
Google Drive is advertised as an online storage, but it is so much more than that. It is by far the best online platform for projects and sharing files among colleagues. Just like most things coming out of Google's workshop, Google Drive is a top-of-the-line product without too many obvious flaws. This online cloud for sharing documents can be immensely helpful, but sometimes it can be impossible to reach, especially if you don't have internet everywhere around you.
Price: Free to download, 2 in-app purchases available
Dropbox has been around for a while and most people know what it does, but few people know what it does better than anyone else: confidential file transfer. Dropbox lets you link an unlimited number of devices to one account which makes the file flow much faster and easier. Imagine how much time you could save by sharing files with everyone at once instead of sending each of your employees a separate email. The thing that makes Dropbox better than Google Drive is the fact that it only needs to be synced once and the files are on your device without any further need to access the internet.
Price: Free to download, with 5 in-app purchases available
Evernote - from the developers of one of the simplest, yet largely downloaded apps - Sticky Notes - comes the best note taking app for mobile phones and tablets. Evernote is a state of the art workspace that is compatible with almost any device, and can be synced between multiple devices at the same time as well. This app is used for taking notes, editing documents, organizing articles and photos, and besides those features it has a remarkable business card scanner.
Price: Free to download, with 10 in-app purchases available
Utilize the lesser known apps
Converting PDFs to Boost Productivity
If you've gotten this far down the article, this is where you can really make a difference. Knowing how to approach your employees, how to present your ideas, and how to most efficiently exchange files with coworkers is the key to small business success. And these lesser known apps will help you on that road:
PDF to Word should be your go-to app in case you ever had trouble working with PDF files. We all know PDFs are famous for being bulky, crude, and hard to work with in general. Well, those days are over. With this app you should have no problem converting your PDFs that need to be signed, edited, verified or copyrighted. All it takes to convert a file is find it on your mobile device and the online servers do the rest for you.
Price: Free to download, with 2 in-app purchases available
PDF to Excel is the logical sequel to PDF to Word since it does the exact same thing, but this app is more focused toward the financial and marketing sectors of your business. Having this app on your iPad or iPhone can be a game changer when you need to fix a spreadsheet and send it back to your accountant, or when you need to do your math before submitting your yearly tax report.
Price: Free to download, with 2 in-app purchases available
Hop is an email messenger that switches your email conversations with colleagues to a more casual chat environment. This app also offers group conversations similar to Facebook's Messenger, however with one major difference: you can attach files from Dropbox and Google Drive to your chat and share with everyone!
Price: Free
SlideShark helps you improve your presentation skills, and through the last couple of years has shown to be a powerful sales tool. It allows you to share ideas with your investors and employees from several devices, all the while working on the go.
Price: Free, with one in-app purchase
With these seven apps you should be able to improve your productivity by a significant margin. As you can see, each has a different purpose, but the same goal of helping you work your way up the corporate or small business ladder. Now it's up to you to choose wisely and move on to bigger and better apps!
So what's your key takeaway from this?  What do you need to do in the next 24 hours based on listening?
Share below!
Business Efficiencies with Mobile Apps Resources:
---
Help Spread the Word!
Please let your Twitter followers know about this podcast. Simply click here now to post a tweet >>.
If you enjoyed this episode of the Social Media Marketing podcast, please "go over to iTunes,  leave a rating, write a review and subscribe!
Thank you so much for your support!
Why the Halftime theme Mike?
I'm an Indiana Hoosier native where basketball is the top sport. Every team heads to the locker room at halftime to evaluate the first half and create an updated plan for the second half. That plan includes adjustments based on reviewing what worked and what didn't. The "halftime" is a key review point where the game stops, the team pulls away to huddle in the locker room away from the fans, and they come out prepared and ready to succeed in the second half.
That's what this podcast is all about, taking the time to pull away for a bit to evaluate, learn, and set some strategies for your business to succeed in the second half. Join me by subscribing and let me be your "business halftime" to help you find great success going forward!
Subscribe: Halftime Mike on iTunes | Android users via RSS | Listen on Stitcher.
Download this Episode:
[powerpress]
Catch all the episodes of Halftime Mike by signing up for inbox delivery below!