UPDATE: Go here for the best SMS texting services of 2021.
SMS mass texting services marketing is making waves in the digital marketing space as 48% of consumers prefer brand updates in the form of text messages. Brands have identified text messages as an effective,  direct and quick way of sharing information with their customers.
With the help of mass texting services, you can create, personalize, and send bulk sms text messages to your opted-in lists. In 2019 we saw text message marketing really begin to emerge as a viable and in-demand marketing method.  Here are some of the most innovative and best mass texting services to consider in 2021.
2021 Best Mass Texting Services List:
1. Trumpia

2021 Update Notes: Trumpia retains its number 1 rank on this list for 2021, delivering numerous product updates since 2020. Their newest UI update, Trumpia 3.0, introduces many enhancements that are still being released through 2021. More than just a graphical facelift, this update so far includes an upgraded email editor, new email design templates, a prebuilt Typeform integration which makes creating forms much more streamlined, concatenated messaging (for messages that are longer than the SMS standard 160 characters) and a brand-new inbox interface. If you haven't seen the Trumpia platform recently, you can sign up for a free trial and see all their newly upgraded features here.
Trumpia starts with the same core features as other providers (e.g.: SMS keywords, 2-way texting, etc), which is great for common use cases like mobile number collection and mass texting. But if your campaigns require more sophistication than bulk blasting, that's where Trumpia truly shines.
First, they offer Targeting that adds accuracy to each message. This is crucial because today, 79% of consumers expect to receive personalized engagement from businesses. Second, they offer Automated Workflows that carry out complex tasks for you that otherwise would take an entire team to operate. These are advanced features that are generally only found in more expensive marketing automation services.
2. JookSMS
Send mass text notifications, alerts, reminders, promos & much more with a leader in SMS mass message marketing, Jooksms.com. A campaign can be setup quickly, literally in just minutes. Try the platform for free with 250 Free Credits. No contract or credit card required to start. To dig deeper, request a free SMS marketing Demo with one of their client success representatives. 30 day free trial and monthly costs start at $10/month. Go test and see why several hundreds of companies are using JookSMS to grow their business with SMS Text messaging.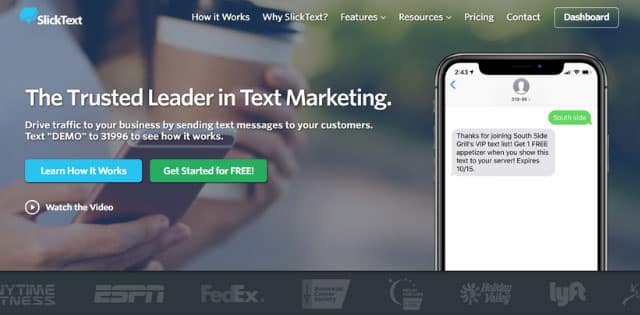 2021 Update Notes: Moving up the ranks from 2020, SlickText's minimal interface makes it easier to use than the other two platforms above. Although missing a few features compared to the other two, like email and branching workflows, the SlickText platform removes complexity while providing a simple functional user experience and retaining enterprise-level functionality and scalability. Where SlickText shines is their regular publishing of resources for users. All through 2021, they have continued to publish an array of SMS marketing resources and up-to-date educational content related to different industries and various uses for mass text messaging. You can see all their guidebooks, use cases, and blogs on their company website.
SlickText is a complete mass text messaging service with features including polling, voting, contests, and drip campaigns. Try a free trial here and you will see that compared to the other platforms on this list, it's refreshingly easy to use and simple to scale. Inbound messages are free, text credits rollover, no annual contract requirements, and affordable pricing for every budget. You can start using the platform today within minutes, all without having to speak to a pushy sales rep.
Instead, the intuitive software is combined with a customer service team that is ready to serve. They take a unique hands-on approach to onboarding that gives their users personalized, step-by-step support through the strategy development setup process. Slick Texting's contact management feature enables the creation of groups, where mass personalized messages can be sent. SlickText also has a direct integration with Shopify and Zapier that allows you to connect the software without the need for a programmer or developer.
Sign up for a free trial here to start using the platform within minutes, with no credit card information required. Use the promo code NEWUSER for a further discount on your first month.
4. Message Launch
Message Launch's mass messaging software has three claims to fame. 1) They're the only entry-level texting software that includes an effective email feature. It's like having Mailchimp and a texting software fully integrated in one without having to manage two different CRMs. 2) They offer tools that capture targeting data from subscribers, so you can use that information to send only relevant messages. 3) Every user gets their own dedicated toll-free number which means no competition for keywords and accurate reply message routing. These 3 things along with all the features you'd expect from a capable texting software makes for a very competitive offering.
5. CodeBroker
CodeBroker Text Message Marketing Software is an enterprise solution that combines advanced features with ease-of-use. Since 2008, CodeBroker has delivered more than 3 billion promotion text messages for the biggest names in retail. CodeBroker Text Message Marketing Software includes the innovative SmartJoin, for building SMS marketing lists that capture full or partial CRM records, for higher-quality SMS lists. The CodeBroker solution is part of CodeBroker's Offer Marketing Platform, a suite of applications that includes solutions for single-use coupons and a digital offer wallet.  Learn more at www.codebroker.com or contact us at [email protected].
6. SendPulse
SendPulse started out as a bulk email service and gradually turned into a multichannel marketing platform. At present, SendPulse allows marketers to send automated bulk SMS, email and web push marketing messages. The company, also, provides a Facebook messenger chatbot builder. 
When it comes to bulk SMS service, the platform enables users to send marketing messages to customers in over 200 countries.  
SMS service highlights:
Custom Sender Name

SMS automation

Message personalization 

SMS campaign statistics 
7. Mobile Text Alerts
Mobile Text Alerts has a simple interface that allows users to easily send effective SMS alerts, notifications, and marketing campaigns to help you drive sales and engagement. They also have a free mobile app for iOS and Android so you can send texts on the go, and friendly customer service if you ever have questions. Other features to help make sure you get the best ROI include MMS picture messaging, free inbound messages, the ability to schedule messages and drip campaigns, link tracking analytics, and other reporting. Plans start at $24/month.
8. Messente
Messente helps businesses across the world reach out to anyone on the planet with a mobile phone. The world of global business messaging is full of different business solutions and platforms: SMS, WhatsApp, Viber, and many others. Messente advises companies on which types of messages to use in different situations and how to navigate this complexity.
They have built a full suite of free high-performance tools and APIs, helping you to deliver business-critical pin codes, notifications, and marketing messages right into your customer's hands.
Messente is known for their excellent customer service, which comes free with their platform, by the way. You can send SMS messages to more than 190 countries and they also give you some free credits to help you get started quickly.
9. TextMagic Bulk SMS Service
TextMagic is a fully featured business SMS platform to enhance communications and improve business operations. With such powerful software you may send notifications, alerts, reminders, confirmations and SMS marketing campaigns. You may easily add text messaging to your business workflow by integrating TextMagic SMS gateway with your website or software using SMS API tools. Thus sending messages online to your team or customers will become even easier. If you want to know more details on TextMagic prices, you are welcome to contact their support team. There is also an option of 30 days' free trial period and the lowest package fee starts from $10.
10. Omnisend
Omnisend
is an omnichannel marketing automation platform.  SMS can be combined with email, push notifications and more channels to provide your customers with a personalized omnichannel experience in one marketing platform.
Visitors phone numbers could be collected by making use of Omnisend integrated SMS list building tools. Also, there are many useful 
Omnisend SMS features
 like Pre-Built SMS Automation Workflows, SMS Campaigns, Integrated Opt-Out Links, Built-In Link Shortener, SMS Channel Reports and more.
Moreover, Omnisend supports all country codes for SMS sending to reach international customers and drive conversions all over the world.
11. Pony Express HQ
Pony Express HQ is an SMS mass texting software on a strong growth curve. Pony Express HQ is designed to help companies effortlessly manage every aspect of an SMS marketing campaign. Its standout features include; Group texting: Create and send deals to specified groups, reminder messages, and news updates to large groups of customers. They offer two-way communication: It is not just a "push" medium where you send information but allows responses. After a contact response, you can pursue conversations at a 1-on-1 level.
Pony Express HQ also offers Message templates to help you quickly create, and an important feature it also provides is the ability to include multi-media elements. While other SMS services limit clients to text-only messages, Pony Express HQ allows you to send MMS elements such as picture text messages, emojis, videos, etc. Pricing uses credits and starts at a very affordable $7 for 250 text message credits. You can also send as low as 
1 cent per text message
.
Final Thoughts on Mass Texting Services
With email marketing becoming harder and harder to reach the primary inbox of individuals, the power of marketing using an SMS Gateway continues to grow.  When users opt-in, many have message notifications turned on and so not only is the text at the top of the message list but a push notification has alerted the user of the new message.  This means that text marketing is a clear way to get in front of your target audience. Hopefully, this list of the best mass texting services can help your business take the next step forward in your SMS marketing.