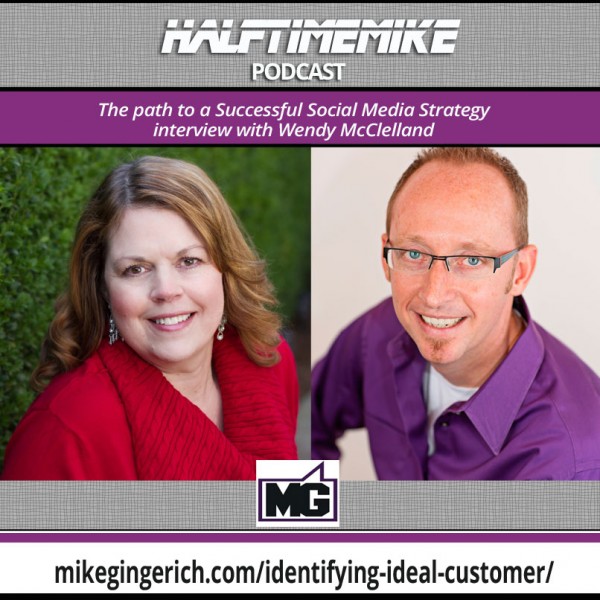 Wanting to use Social Media more and better in your business?  Wanting to hear some practical strategies for using Social Media more strategically in your business?
In This Episode
I get the opportunity to interview Wendy McClelland, a coach, consultant, and  Social Media trainer from Abbotsford, British Columbia.  We go through the key steps she leads clients through when they come and want to use social to grow their business.  It's an informative dive into the value of identifying your ideal client and being specific and consistent in your strategy!  Plus, Wendy shares on some of the key social tools that she uses and recommends to clients for managing their Social Media efficiently.
Listen Now:
[powerpress]
Subscribe:  Halftime Mike on iTunes  | Android users via RSS  | Listen on Stitcher.
Topics Covered with Wendy McClelland:
The need to identify your avatar / ideal audience
How to identify that avatar
Developing a Social Media Strategy
Why start small in your social efforts
The importance of consistency and focus in social media
The value of list building and "freebies"
Social Media tools recommended by Wendy
More about Wendy McClelland:
Wendy McClelland is a past nominee for Canadian Entrepreneur of the Year and her first website was chosen by the New York Times as "one of the best biz sites on the 'net" (the same day Microsoft was chosen). With nearly 20 years of Internet experience, Wendy has shared her Internet marketing and social media knowledge with over 10,000 people at live events.
Today, Wendy specializes in 'demystifying social media' by helping entrepreneurs identify their ideal clients, and then finding the RIGHT social media platforms to make lasting connections. Her goal is to help people feel less overwhelmed with social media, and more in control of how their image is portrayed online. Wendy offers her expertise through coaching, custom training and speaking.
Wendy lives in British Columbia, Canada, where she serves national clients with training, coaching, and social media strategy.  Wendy is also part of the "The Social Chicks" team that serves corporate clients with training on social media.
Podcast Episode Resource Links:
Next Doable Task:
It's always about taking away learnings and applying them! What's your key takeaway that you need to do in the next 24 hours based on listening to this?
If you are having trouble deciding, my tip is to check out Wendy's video on identifying your ideal customer >  
View Video
Why the Halftime theme Mike?
I'm a Indiana Hoosier native where basketball is the top sport. Every team heads to the locker room at halftime to evaluate the first half and create a updated plan for the second half.  That plan includes adjustments based on reviewing what worked and what didn't.
The "halftime" is a key review point where the game stops, the team pulls away to huddle in the locker room away from the fans, and they come out prepared and ready to succeed in the second half.
That's what this podcast is all about, taking the time to pull away for bit to evaluate, learn, and set some strategies for your business to succeed in the second half. Join me by subscribing and let me be your "business halftime" to help you find great success going forward!
Download this Episode:
[powerpress]
Catch all the episodes of Halftime Mike by signing up for inbox delivery below!