By Chad H. Pollitt
Internet Marketing Manager
Internet Marketing Expert

Digital Hill Multimedia, Inc.

Internet Marketing Keyword Workshop

When approaching an internet marketing SEO project it is ideal to start before any line of code is written or web design is considered with a keyword workshop.  Even prior to building a site map or wire frame a keyword workshop should be performed.  By executing a proper keyword workshop, you will identify the number of searches performed per month for specific keyword phrases.  These results will drive the strategy of the SEO campaign and website structure to attract the maximum number of prospects to those pages.
Once the targeted keyword phrases are defined they must be assigned to each page they are relevant too.  In addition, these words can be used on other internet marketing platforms.  This process should be collaborative and requires a defined and keen understanding of target demographics and personas.  The keyword workshop will also help define whether or not a landing page or microsite is a viable strategy to deploy.
Digital Hill recommends utilizing Google's free keyword tool when conducting a keyword workshop.  When utilizing the Google Keyword tool always choose "exact" on the drop down menu as shown below.  Otherwise, the results will include any search with those words included.  For example, a broad search for "Fort Wayne Web Design" gives a rounded search number of 720 per month.  With "exact" chosen the number is reduced to 480 searches per month.  Broad results would also include a search for the following:  Fort Wayne Web Design Marketing firms, SEO Web Design in Fort Wayne, Fort Wayne Web Design Shops.  That's why choosing "exact" in the drop down is important.

Keyword Research example: "Fort Wayne Web Design"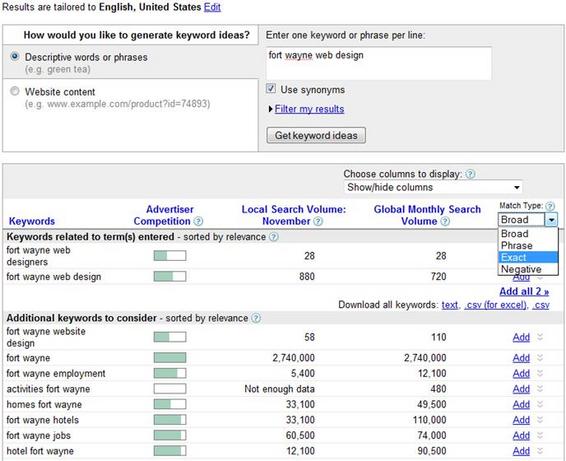 As mentioned above it is important to define and understand the targeted demographic and their personas.  People only go to the web for two reasons: entertainment and/or to solve a problem.  When doing keyword research one must always think about the problem a persona may be trying to solve when doing a search.  That way, when you develop content for a page within a site, that content can be centered around solving that problem.
How to choose your keywords
Choosing the right keywords is the first step to better search engine positioning in internet marketing.  Analyze your business carefully and think of all the words that relate to your company, product or service.  Let's say you sell sheet metal.  What words would you search for when looking for the same product?  Ask your colleagues and friends to think about the same question.  Make this a collaborative workshop.  This is perhaps the most important stage in your war for a spot in search engines' top 10.  As you think about keywords, consider the following:
1.  Who needs your products and services?
Think about who will use your products and services, then target them with keywords.  For example, if you know that people in the fabrication industry need sheet metal, add words like "sheet metal fabrication" and "custom sheet metal" to your list.
2.  Include variations of your keywords
People will search for your site using all sorts of keywords.  Because of this you should consider including misspelled and plural keywords.  Always include the longer forms of keywords too.  Most people would shy away from using common mispellings on their website.  However, mispellings can be strategically hidden in alt tags, meta tags and link text so they won't be readily available to the regular website visitor.  This is a common internet marketing practice.  Besides, only 20% of your website visitors will actually read your content.
3.  Avoid wrong keywords
Do not use "stop words" like AND, THE, YOUR and common words like INDUSTRY.  Remember, the more specific your keywords are, the better the chance that people who find your site through search engines will actually benefit from its content and get their problems solved.
4.  Look at your competition
If you have any competitors that are doing well online, look at what terms they're advertising and ranking for.  You can get ideas for your own terms by doing competitive research.