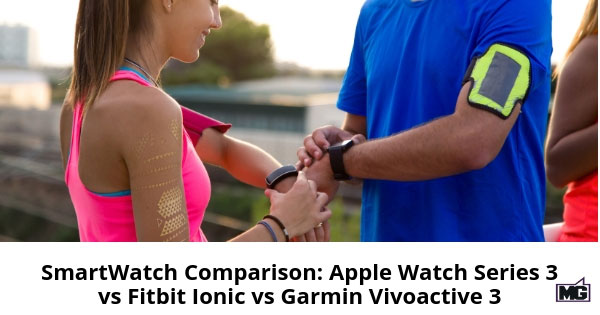 Smartwatches are useful devices in that in addition to telling you the time they also help you keep track of all your appointments and many smartwatches provide health tracking benefits as well.
When you're looking at smartwatches three of the most popular brands are Apple, Fitbit, and Garmin. Here's a brief list of the pros and cons of the Apple Watch Series 3, the Fitbit Ionic and the Garmin Vivoactive 3.
Apple Watch Series 3
Pros:

In terms of design, the Apple Watch has the best specs overall. It offers a dual-core processor, a very sharp display, changeable watch bands by Horus Straps, and an LTE cellular option. Most likely you're already familiar with its interface as the Apple Watch's operating system takes a lot of its features from Apple's iOS platform. Like all of Apple's products, it integrates with all of Apple's laptop or cell phone.

Cons:

The Apple Watch users are locked into their platform. That means that you need an iPhone to use an Apple Watch. If you're integrated into Apple's software system that's no problem but if you own an Android phone it's a no-go. Battery life is good (18 hours) isn't nearly as long as other smartwatches whose battery life is measured in days and not hours.
There is also the option to consider other Apple watch alternatives on superwatches.com if you want something similar and yet potentially less costly.
Fitbit Ionic
Pros:

The Fitbit has several of the features you'd expect from a smartwatch. It supports contactless payments, has its own app store, and has a coaching app for workouts. It's also water resistant and offers a long battery life of up to 4 days. The Ionic is as compatible with both Android and iOS platforms meaning you don't have to worry about platform compatibility.

Cons:

A design flaw that is common of all Fitbit devices is they still use their own proprietary charger meaning that you'll have another charger to keep track of. Also, the notifications on the Ionic are non-interactive which can be annoying as you cannot tap them to respond.
Garmin Vivoactive 3
Pros:

The Garmin Vivoactive 3 has a big vibrant display that's easy to read and is perfectly viewable in sunlight. The Vivoactive 3 is also focused on physical activity and comes with 15 apps built in focused around exercise. It also precisely tracks several health-related metrics. Battery life is also really good lasting up to seven days.

Cons:

A flaw of the Vivoactive 3 is it lacks storage space which means you can't store your music locally on the device. By comparison, the Apple Watch and Fitbit Ionic offer gigs of on watch storage. The Vivoactive 3 does support wireless payment, unfortunately, is its own unique format that is not as widely supported as Apple or Android payment systems.
Picking A Watch
When selecting a smartwatch you need to take what type of phone you own into consideration as not all smartwatches work with all smartphones. The Apple Watch offers the best overall design in terms of appearance with the added bonuses of better underlying technology. However, the Apple Watch only works with iPhones and won't sync with an Android device.  For further information on smart watches and how they measure heart rates, check out the article by swaggermagazine.com.
If you need an Android compatible smartwatch the Fitbit is an attractive solution as it splits the difference between workout device and smart device. The Garmin Vivoactive 3 is a good choice if you're chiefly concerned with fitness options as it offers several features in this area.