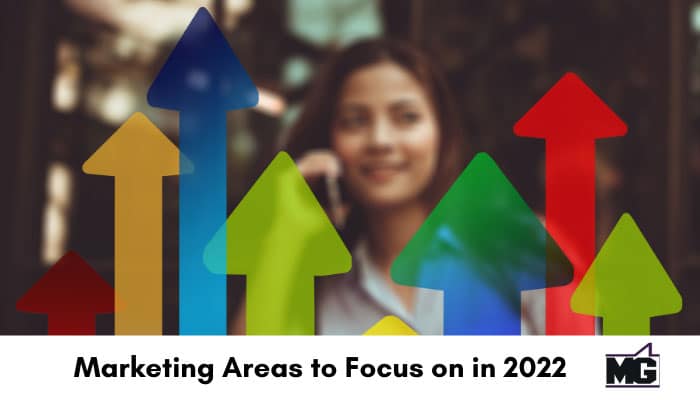 As a digital marketer, you've probably heard Google's announcement that it will no longer support third-party cookies in 2022 for Chrome browsers. Well, this is a big deal since Chrome is the most popular browser with a 70% market share. Tracking customers across various platforms through cookies is crucial for both businesses and digital marketers. However, user privacy concerns are becoming more important. Thus, the implementation of GDPR laws is taking effect. As such, businesses and digital marketers should be on the lookout for other marketing areas and trends to focus on that will shape the year ahead.
It's Time to Own Your Audience
Social media marketing has exploded in recent years and is poised to continue growing. However, even brands with millions of Facebook, Instagram, and Twitter followers essentially don't own them. Therefore, even if these platforms have been working well for your business, you shouldn't get comfortable.
In 2022, businesses need to find ways to own their audience for various reasons. For starters, owning your audience ensures that they receive marketing messages directly. Secondly, several factors and metrics affect message delivery on social platforms. As such, your message may be lost amidst the marketing noise. Especially on social platforms full of many other competing brands.
For instance, with more than 500 million tweets being sent daily, how can you ensure that your marketing tweets reach your target audience? Additionally, more than 6 million brands use Facebook ads, making it easy for your message to disappear. That aside, modern customers often have a short attention span of less than 8 seconds, thanks to information overload.
These are just but a few reasons why you should own your audience in 2022. Unfortunately, this might be difficult to achieve. However, the best place to start is with an email list. Using a few tricks, such as sending personalized newsletters and creating custom content, allows you to be directly in your customers' inboxes.
Invest in Building a Strong Brand Image
Your brand image means a lot in the current digital world. Therefore, to create a strong brand image, you should find the right words and communicate correctly with your audience. You should also take advantage of user-generated content to widen your reach. Even though digital marketing will remain a key marketing strategy in 2022, you should invest more time and resources to stand out.
For instance, the cost of Google Ads keeps rising every year because of the bidding format used by Google. Increased online competition means that the cost of these ads will also continue to increase. To avoid costly marketing campaigns, focus on increasing your brand awareness organically. Simple ways of doing this include posting video tutorials and creating insightful web content. You may even want to consider a weekly podcast.
Content is Changing
The phrase "content is king" has been the face of content marketing for some years. However, even though consumers want unique and high-quality content, there is so much out there, thus making it challenging to find the best and to wade through the rest. That said, simplicity and clarity will likely replace long-form content next year.
With changing customer behavior, customers no longer want super, long articles and massive third-party reviews. Instead, they want a new and unique twist. This makes it necessary to use unique approaches with personal recommendations and experiences. If you are into blogging, provide educational content with an interactive twist. For example, including short snippets or even polls and quizzes within your blog.
Marketing Automation 
What is marketing automation? The concept of marketing automation stems from using digital technology to hasten the tasks associated with promoting different products and services or a company's brand. Hence, marketing technology was born, consisting of automation and other technologies to make marketers' lives easier. Business-to-business (B2B) and business-to-customers (B2C) can use marketing automation to generate promising leads and sales.  
Because of advanced digital technology, automation empowers marketing tasks. Whether you're launching a new press release, a social media campaign, email marketing, or content marketing, you can deploy marketing automation to reduce the hassle and stress associated with manually entering data and tracking sales and marketing results.   
Predictive analytics, cloud technology, machine learning, and artificial intelligence are just a few of the many technologies that companies can use to automate marketing tasks. Of course, automation comes with risks, such as cybersecurity vulnerabilities. Therefore, choosing the best marketing automation software should also prioritize safety features.  
Are you ready to take your business to the top-rank companies in your industry? If yes, then embrace marketing technology. You can simplify your sales and marketing through automation to find out more as you broaden your knowledge and skills on this crucial area to focus on in 2022.
Conclusion
2022 will certainly bring big changes in the marketing space. While these might not be the only impacts or changes, a sure fact is customers will demand more. This is why you should start experimenting with new marketing methods, particularly in the digital marketing arena. Begin by focusing more on personalization, and be ready to review and change your marketing strategies regularly.
---
Looking for help? Tired and believing there has got to be a better way?
Let's talk about your business. With over a decade of experience leading companies and transforming lives, and a Master's degree in Org. Development and Leadership, Mike can help you find the best way forward!
Subscribe to receive my latest business tips and tactics in your inbox.