Facebook offers restaurants a great platform to stay in touch with customers and find new ones.
The key is providing the right information at the right time, right on Facebook!
2 Tabs Restaurants MUST HAVE on their Facebook Page

1. A Menu Tab
It's your KEY information!  Let visitors on your Facebook Page know what you got!
Add a tab and add your menu to the tab. Want to save more time?
Use the TabSite Website ReSizer and simply add your existing menu from your website to a Facebook tab! Why? It saves time! Update your menu on your website and the tab is updated automatically since it's the same page, just on Facebook! Website ReSizer allows the powerful advantage of making any website page fit perfectly in a tab.
Then share updates to your menu via a post on Facebook and link to the tab via a Smart URL (mobile friendly) to take visitors direct to the tab!
2. Incentivized Email Sign-up Tab
By adding a Email sign-up tab to your Facebook page and making users aware of it periodically through posts and tips, restaurants grow their email list and then reach potential buyers and sellers via this means as well. This is critical!  When it gets into the inbox, it gets attention.
Email marketing continues to provide value to those who use it by creating a routine of regular information and education that is in the inbox! With integration's for tabs from services like MailChimp and Constant Contact among others, having a custom tab for email sign-ups is a snap!
To increase the percentage of users that will sign-up, use a incentive! By offering something of value, such as a coupon, discount, or free dessert this acts as a motivator that increases the desire for fans to opt-in.
See some deal and incentive apps here: Deal Download Offer Tabs >>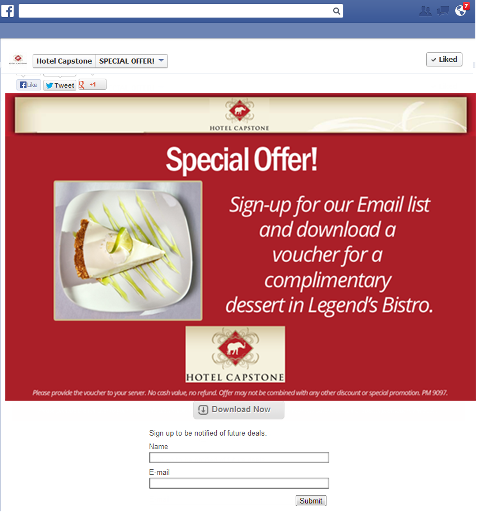 Together these tips implemented and carried out with regular news feed updates on your restaurant fan page can be a valuable method of marketing to grow more customers!
BONUS TIPS:
Bonus #1. Post Inspiring Content, Images, and News Regularly
Statistics from Facebook say that 40% of a users time on Facebook is spent in the News Feed.  So this is the key location to grab their attention and draw them in.  Your posts need to inspire and motivate the fan to click on the post to come to your tabs noted above.
Post on a regular schedule, such as 2-3 times per day at key times and in a way that invites Likes, Shares, and Comments. Use a mix of post types from status updates to photos of food and short videos of life and times at the restaurant.
NOTE: people are visual and the popularity of Facebook and Pinterest prove that people connect with images. If you want to quickly capture the attention of your fans or followers, add images that are eye-catching and pleasing to the eye.
Bonus #2. Add a Reservations Tab
Does Saturday night get packed at your hot spot?
Do you already offer reservations via your website? Then simply bring it into Facebook for use!
Same as the menu tab above, create a tab and use the Website ReSizer app to bring your web reservations page into Facebook for use. Then post about it in the news feed before prime time and get customers used to coming to your page on Facebook to make their reservations!
This adds a great dimension of functionality to your fan page. When people are on Facebook, they want to stay on Facebook, and this allows them to do so by giving them the information and tools right on the Facebook page tab.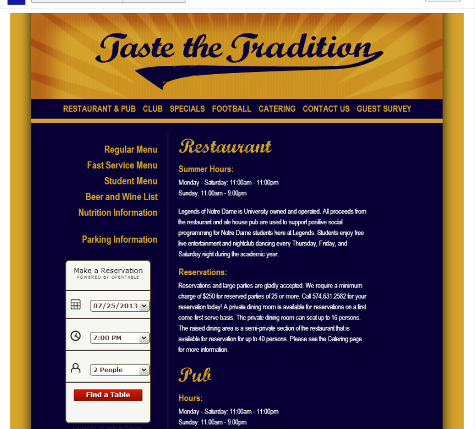 What about your business? Most of these tips can also apply to other industries as well! Do you have these tabs on your Facebook Page?